The kitchen is the heart of the home. It can greatly shape how the home is seen, how it's interacted with, and the experiences that it can provide. In this article, we share 5 of the latest trends in kitchen design. We compare these new designs with previous styles that have gone out of fashion or which are quickly fading away.
Use the information we share below to help you maximize your kitchen! We, at Rasmussen Custom Cabinetry, strongly believe in the power of maximization and design in shaping how you and others experience a space in your home, and especially, your kitchen!
5 Kitchen Designs in Style in 2021
Kitchen designs are always changing. While it may seem pointless or difficult to keep up with the latest trends in design, knowing what's in style can help you in many ways. For example, the value of your home can increase when it seems more modern and maintained. Additionally, you capitalize on your home's potential when you use trends to beautify your home. New trends can also improve your home's functionality.
Knowing this, here are 5 kitchen designs in style in 2021. We compare these designs with the previous year and past years' designs.
Design #1: Minimalist Kitchens Focused on Entertainment and Less on Appliances
In past years, cabinets were seen as less important in the overall design of the kitchen. If they did matter, they were often not fully used and stylized to the home and to the needs of the individual or family. For example, appliances were often more visible. Think of a visible stove and range. In this type of kitchen, the emphasis is on what is done in the kitchen (thinking cooking!)..
In 2021 and onward, the emphasis is on reducing the appearance of appliances. For example, in newer models of kitchens, stoves and ranges are often hidden from view. Instead, the emphasis is on entertaining. This means more emphasis on dining furniture and the look of the kitchen. As we'll talk about later in this article, the appearance of the kitchen is often shaped by the stain of the cabinets and the color of paint that's used in the kitchen.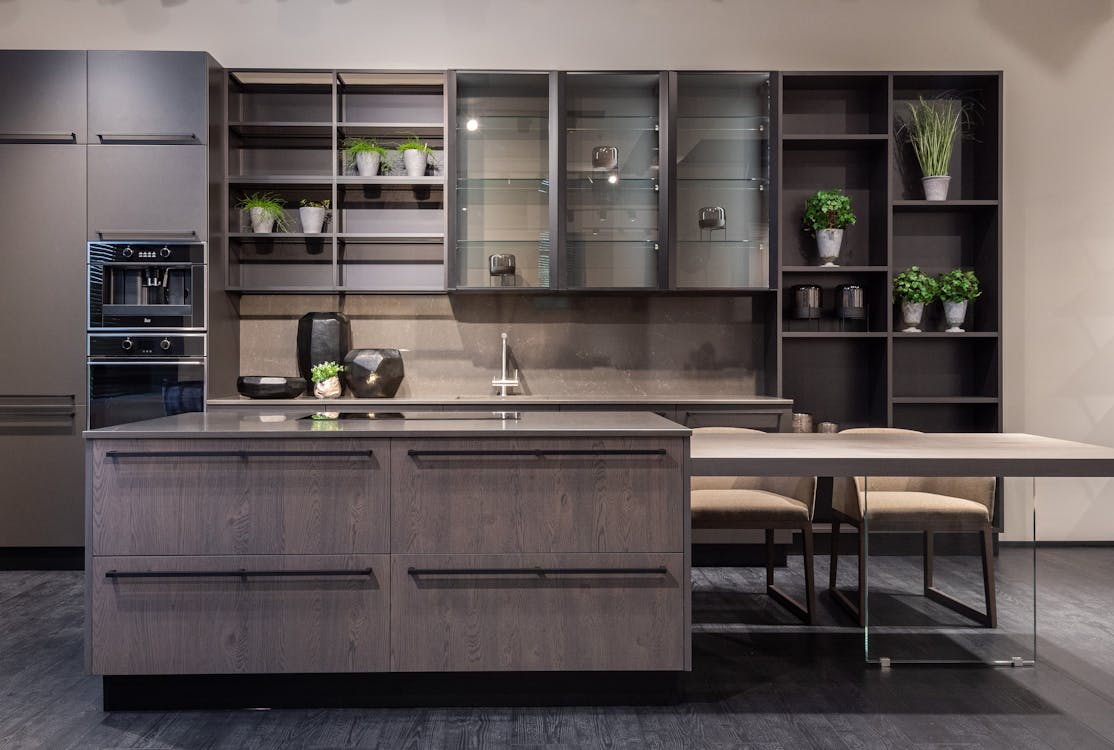 Design #2: More emphasis on darker kitchen cabinets
In previous years, and especially last year, grey colored cabinets were often in style. In fact, grey is still used in many homes. Nevertheless, according to Southern Living, one of the most popular magazines on home decor and styling, lighter colors kitchen cabinets are being left behind for more darker colors. What this means is that it might be a good idea to factor in the trend of moving to more bolder colors as you explore the options you have in designing your cabinets.
Design #3. Using color contrast to make a statement
In previous years, white-on-white kitchens were often very popular. This also goes for an all-grey or neutral-colored kitchen.
Nowadays, there's a greater interest in color contrast. According to Homes and Gardens, another popular magazine that caters to designing the home, using color contrast in your kitchen can emphasize the role that it has in your home. For example using orange shades with greens or various other colors.
Design #4: Using stained wood and warm wood shades in cabinetry
In previous years, there was more emphasis on non-wood materials and stains. In 2021, there has been a push to use more wood and warm wood shades. A warm wood shade often gives your kitchen a homey and vibrant feel. That's because wood is often associated with the home and with the earth/nature.
Design #5: More emphasis on customizing the kitchen
Instead of turning to generic templates that you can find in different stores, more and more people are looking to customize their kitchen. As we mentioned before, using color contrast, bolder colors and minimalist designs are some ways that people are shaking up their kitchen.
Rather than opting for previous years trends, explore all the options you have in creating a beautiful home, one that you love.
Let Rasmussen Custom Cabinetry Help Your Maximize On and Beautify Your Home!
At Rasmussen Custom Cabinetry, we recognize that each individual and family has different goals and vision for their kitchen. Using our experience and training in home design, we can help you figure out what's right for you and your home in Utah.

Whether it's your kitchen, bathroom or other area of your home, we can help you find what works and doesn't work. We'll also share tips and tricks to beautify your home. We always keep you and your needs in mind.
As you can see, we're aware of the latest trends in home design, the functionality and practicality of these designs, and how to customize your home.
Reach out to us today! We would love to help you and your family!